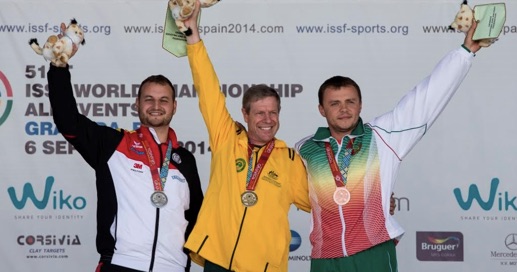 Target Rifle Australia Limited is the organisation responsible for the Olympic & Paralympic sports of Smallbore & Air Rifle Shooting.
Organisational Structure – Small Bore and Air-Rifle Shooting
Small bore Rifle and Air Rifle are the only rifle disciplines shot at the Olympic and Paralympic Games.
The world bodies controlling these disciplines are the International Shooting Sport Federation (I.S.S.F.), the International Paralympic Committee (I.P.C.) and the World Rimfire and Airgun Benchrest Federation (WR.A.B.F.).
Each affiliated country has a National Federation and states or provinces have Associations which govern clubs within them. In Australia, the overall controlling body is Shooting Australia.
Shooting Australia is responsible for selection of Australian Teams to contest international events such as the Olympic and Commonwealth Games, World Championships and World Cup events as well as the Oceania Continental Championships.
The National Federation here is Target Rifle Australia Ltd., (T.R.A.) www.tra.org.au which has 6 State Member Bodies:
These State Member Bodies are underpinned by each of their affiliated clubs.
No matter if your club is a strictly I.S.S.F. Club, Bench Rest or a Prone Silhouette Club, the club you have just joined provides you with the opportunity to participate in the events of your choice.
Club officials and other club members will be able to assist you with all aspects of small bore shooting such as coaching, equipment, ammunition, opportunities etc.

| | |
| --- | --- |
| Affiliations: | Shooting Australia (Olympic/Paralympic disciplines) World Rimfire & Air Rifle Bench Rest Federation (RBA Bench Rest) |
| Other disciplines: | TRA Bench Rest Prone Metallic Silhouettes (Queensland) Supported Rifle |
| Olympic disciplines: | ISSF Air Rifle ISSF3 Positions ISSF Prone |
| ISSF & ISSF based disciplines in Australia: | Club participation (Aust Supplementary) Prize meetings State Championships National Championships AISL Australia Cups |
International team representation: International Competitions
Oceania Commonwealth Games ISSF World Cups World Championships Olympic Games
Range Official accreditation – TRA & ISSF
Paralympic Disciplines:
IPC Air Rifle/Prone & Standing IPC 3 Position IPC Prone
Range Official accreditation – ISSF/IPC
| | |
| --- | --- |
| IPC disciplines in Australia: | Club participation, Competitions, State Championships, National Championships, International Competitions, IPC World Cups, Paralympic Games |
Other disciplines:
TRA Bench Rest:
ISSF based Club participation Prize meetings State Championships National Championships
Prone metallic silhouettes:
Sporting Rifle – own rules Includes prone at ISSF based target Club participation Prize meetings Sugar Coast/Norgrove Shield competition (interclub teams) State Championships
Silhouette Range Official accreditation
Supported Rifle:
ISSF based Club participation Prize meetings State Championships National Championships
RBA Bench Rest:
WRABF based

No Official range official accreditation
Club participation
Prize meetings
State Championships National Championships
WRABF World Cups
World Championships