As the name suggests, these Olympic sports are confined to rifles of smaller calibre – .22 and .177 air rifles. Smallbore rifle shooting and air rifle shooting is extremely popular around the world, where the tradition goes back many years. There are both Olympic and non-Olympic events within the sport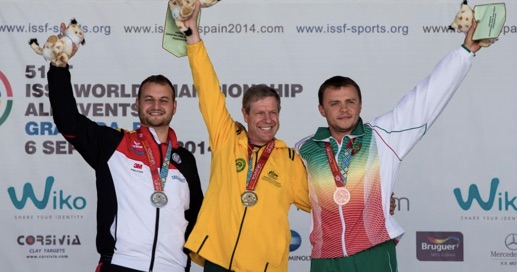 The Air Rifle Match consists of a 60 shot event for men and women using a .177 calibre target air rifle weighing no more than 5.5kg. Pictures of these types of rifles used in competition are available on the site.

The event is shot in the standing position over a distance of 10 metres usually on an indoor range with set light standards. In international competition, there are separate events for men and women, with a newly introduced mixed pairs event, although both genders jointly contest many of the events in Australia. Air Rifle is an inexpensive way of getting into shooting, and it is an appropriate way to introduce juniors into shooting.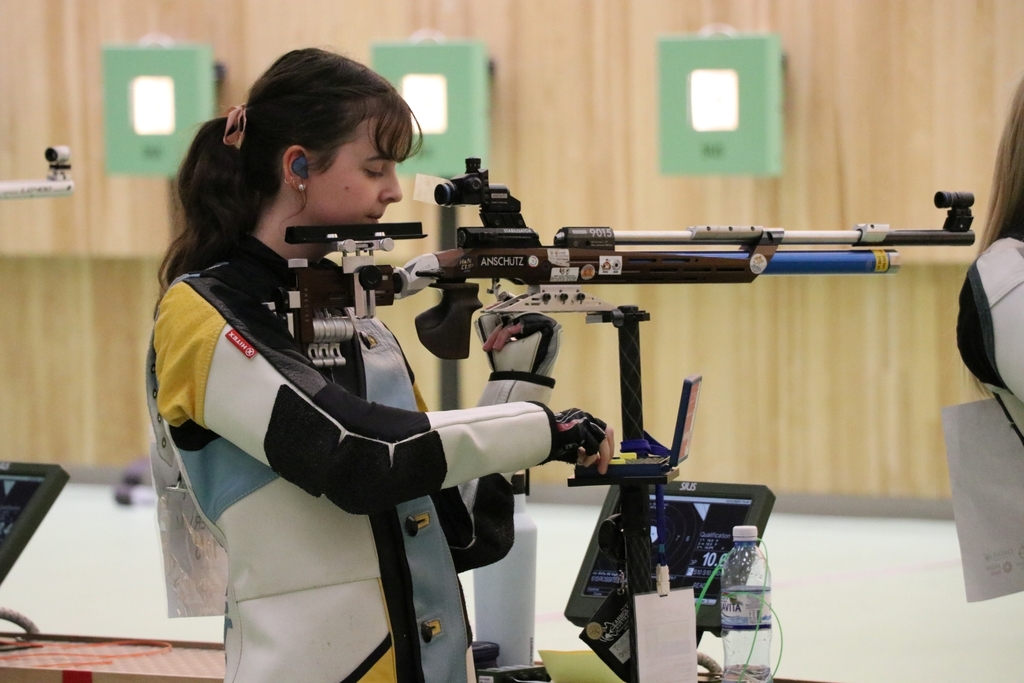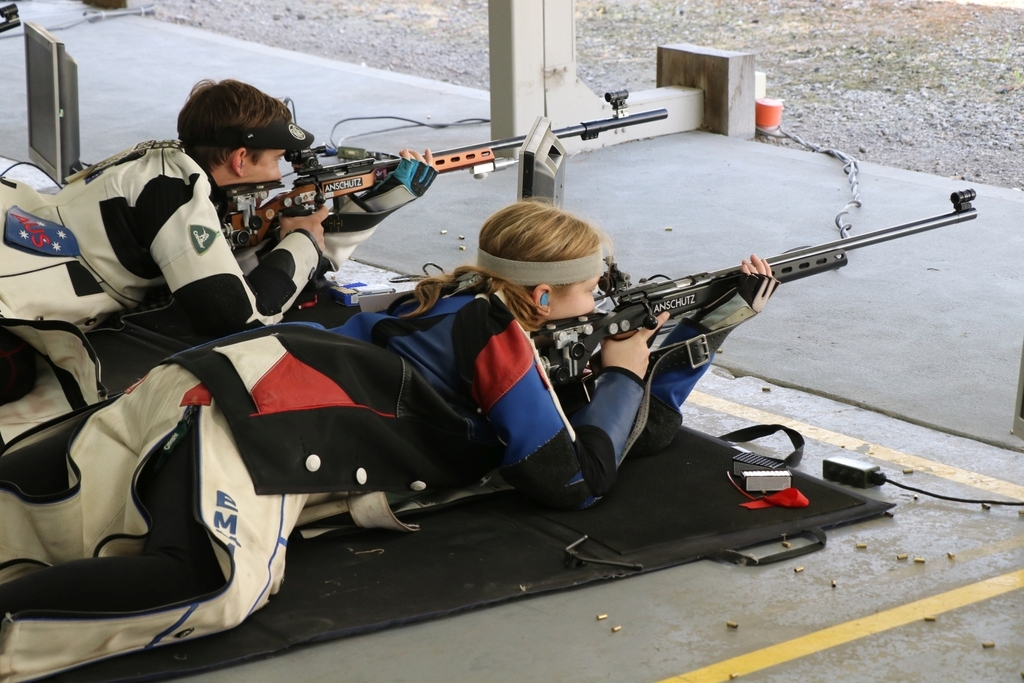 Competitors fire 60 shots over the 50 metre range using a 0.22 target rimfire rifle with standard velocity ammunition. The shots are fired from the prone position in a total time limit of 50 minutes. The rifle must not weigh more than 8kg. Prone is the most contested singular event in Australia and would be regarded as the most popular. 
There are local variations that include a short range event at 20 metres, and a long range event over 90 metres.
Smallbore benchrest shooting is quickly becoming very popular throughout Australia with many competitions held each year in various locations. 
This event is shot on the 50 metre range whilst seated at a small bench with the rifle fully supported by rests at the front and rear. 
Many shooters use specialised bench-rest rifles but any small-bore rifle with a scope is suitable. Unlike the disciplines of air rifle and prone, bench-rest rifles have magnifying scopes fitted which make the target image appear larger and
clearer.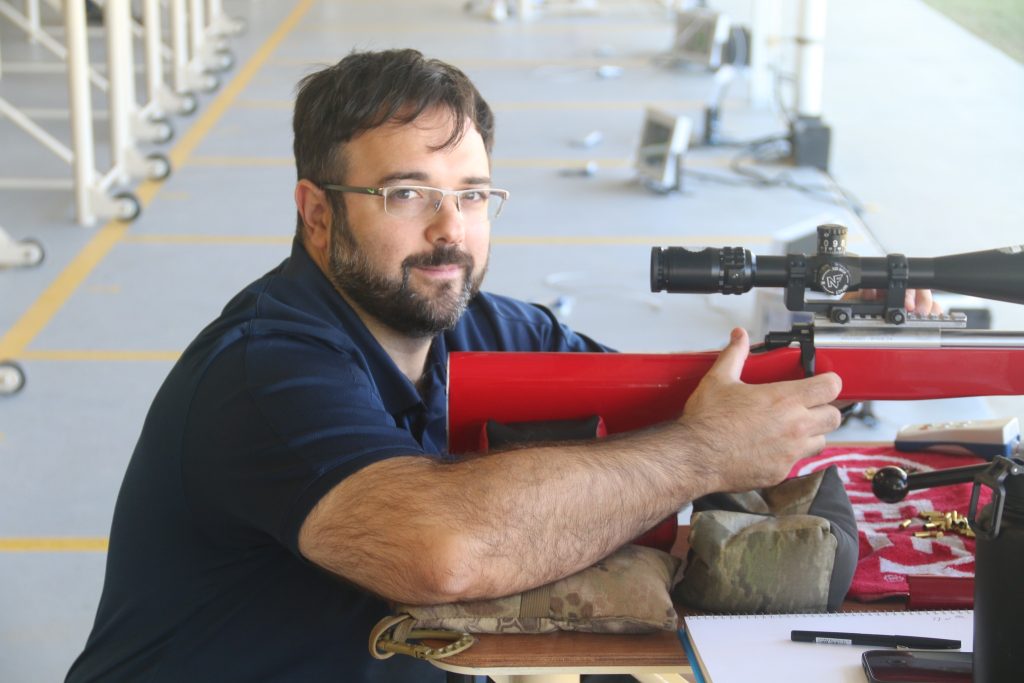 Competitors fire 60 shots over 50 metres using a .22 target rimfire rifle weighing no more than 8kg. Twenty shots are fired from a prone kneeling, then 20 from a prone position and 20 from a standing position. With the inclusion of three shooting positions this is a challenging event.
A final is shot by the top 8 competitors after the match consisting of all 3 positions.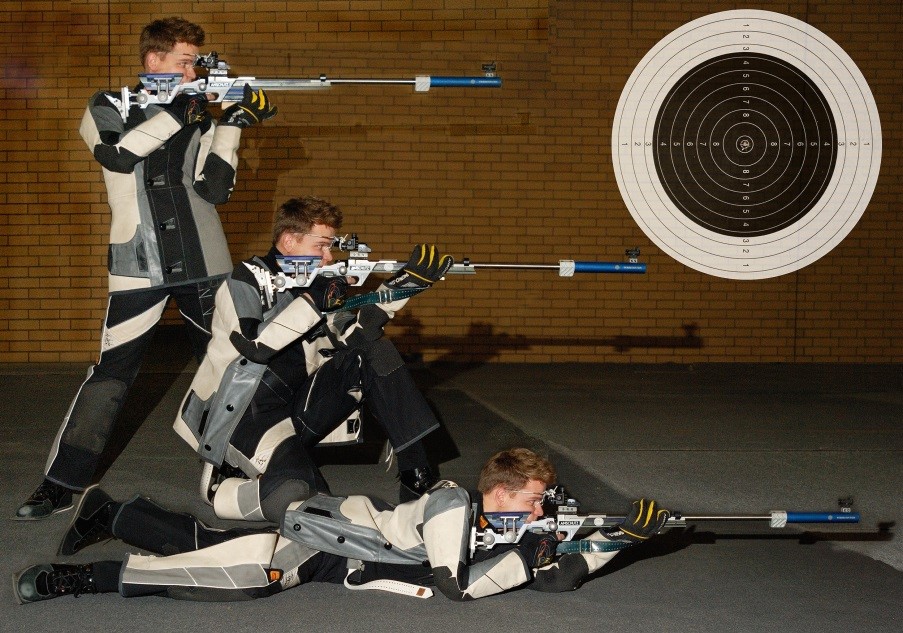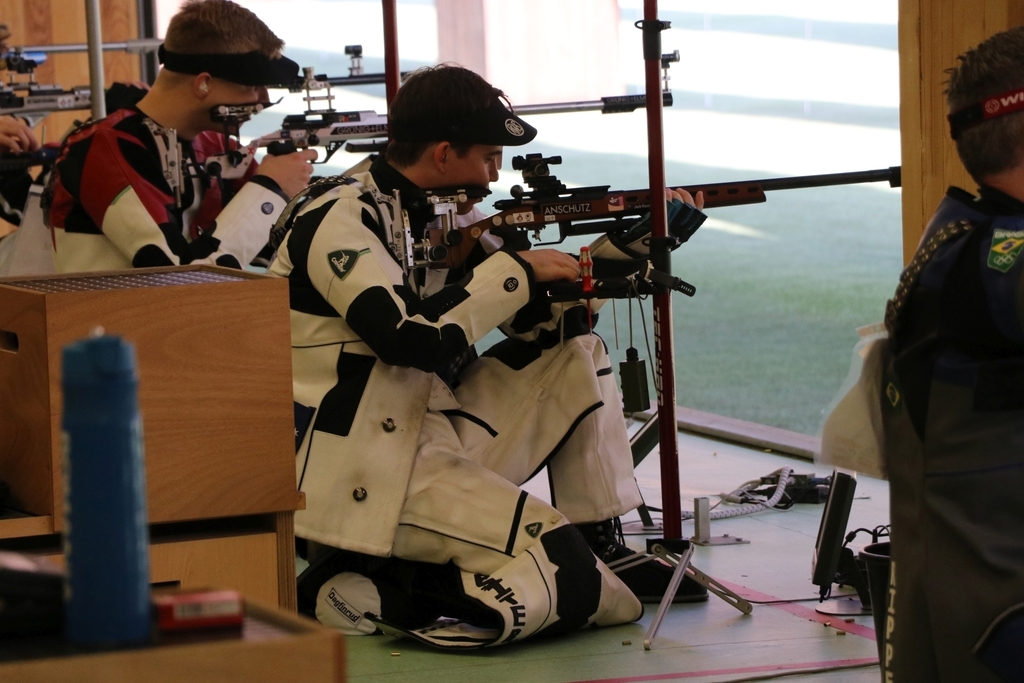 Competitors fire 120 shots over 50 metres using a .22 target rimfire rifle weighing no more than 8kg. 40 shots are fired from the kneeling position, 40 shots from a prone position and 40 shots from a standing position. This is certainly the most challenging of all the events, and often regarded as the marathon match of smallbore shooting since it takes 3 hours to complete – of course, and there is a final where the top 8 shooters compete for medals.
Until the 2016 Olympics men shot a 3×40 match and women a 3×20. During the following Olympic cycle to 2021 the men's and women's matches were both 3×40. Since The Tokyo Olympics both men and women shoot 3×20.
In Australia, both lengths of the matches are still held in some competitions, with men and women being allowed to shoot in "open matches".
Smallbore shooting is contested at both the Olympic and Commonwealth Games. There are also World Shooting Championships every year outside of the Olympic year. The world titles attract competitors from more than 100 countries and often over 450 competitors.
In recent years Australian rifle shooters have made their mark in the international events with Commonwealth Games individual and team medals, World Championships team and individual medals, World Cup and World records to their credit. Rifle shooting has featured in most Olympic Games since 1896, including the Sydney 2000, Athens 2004, Beijing 2008, London 2012, Rio 2016 and Tokyo 2020. 
There are many different styles and types of rifles used in the sport. Many shooters use standard manufacturer's designs, while others fully customise their rifles, both in looks and shape. You will see pictures of the equipment that is commonly used in the sport of smallbore rifle, and air rifle shooting on this website.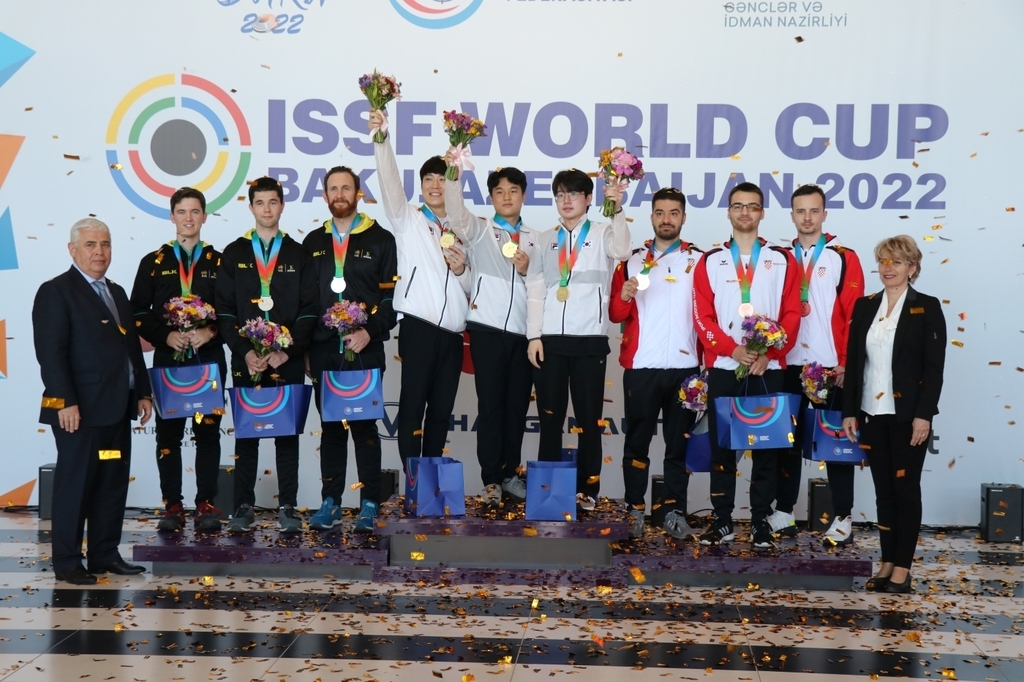 Athletes with a disability
Athletes with a disability can enjoy many shooting events and international events run by World Shooting Para Sport (WSPS)
Shooters are classified according to their level of disability. The rifles used are the same as those used by able-bodied shooters. Allowances are then made with regard to extra equipment needed to enable shooters to compete.
Paralympic events shot by disabled shooters are 50 metre Prone & 50 metre 3 Position (.22 rimfire) and 10 metre Prone and 10 metre Standing Air Rifle (.177 calibre).
We have a number of disabled shooters in Australia who have achieved great success internationally. More information on WSPS events and shooting with a disability can be found here.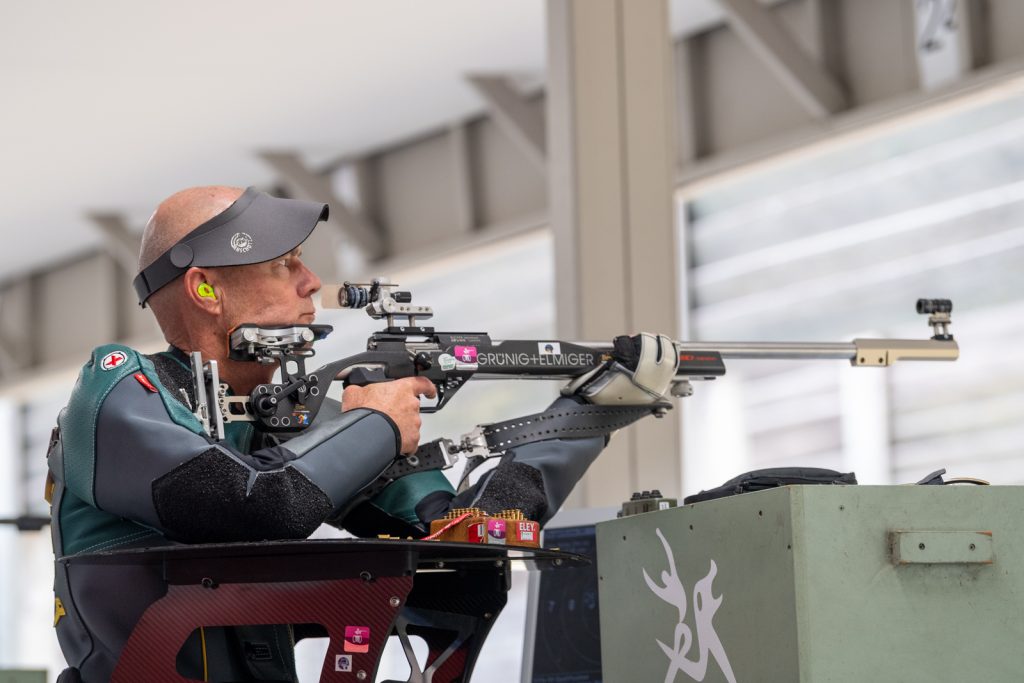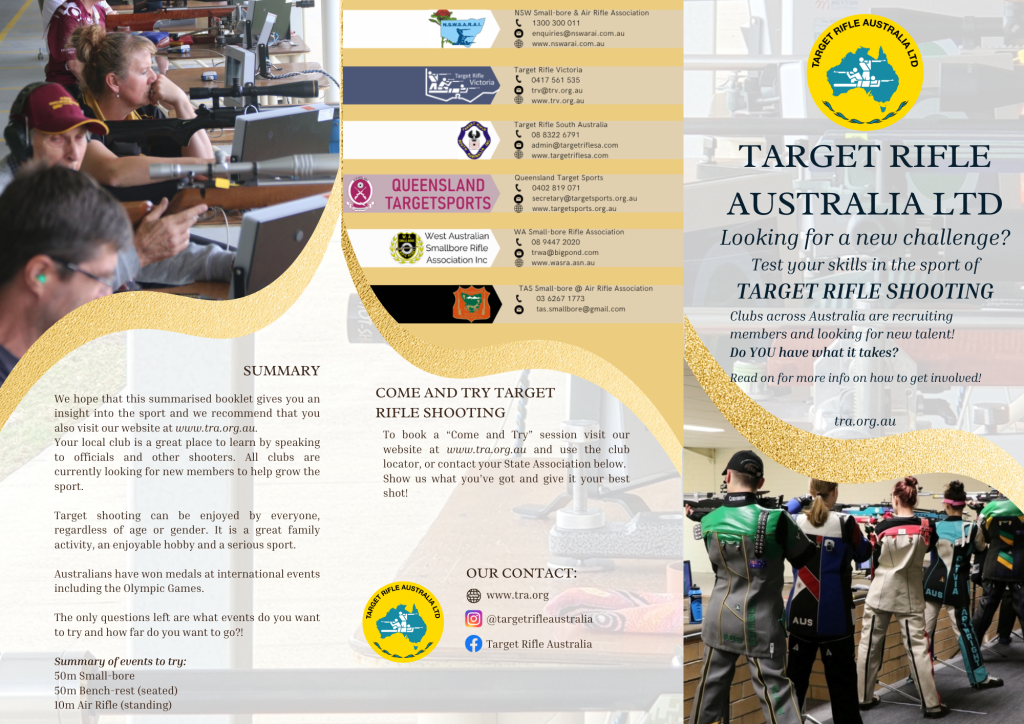 Target Rifle Australia has a promotional introductory brochure introducing the sport of rifle shooting. If you would like a copy you can download it here.