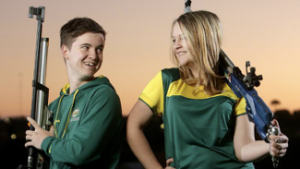 Introduction to Target Rifle Shooting
Safety around the range
When you step onto the range you are in a safety controlled environment. Safety is the highest priority and certain rules must be adhered to at all times. Please take note of the following:
Always identify the range officer then listen out for and obey their instructions.
If at any time you have any questions, no matter how simple, speak to the range officer.
Never point a rifle at anyone.
Treat all rifles and equipment with respect.
Treat every rifle at all times, as though it were loaded and ready to fire.
When handling a rifle ensure it has a coloured breech flag inserted in the loading port/chamber.
The breech flag must be inserted at all times when you are not shooting i.e. setting up or when you have finished shooting. This lets other range users know the rifle has no ammunition loaded.
Keep your finger away from the trigger unless you are ready and aiming at the target.
Only load the rifle under the instruction of the range officer.
The rifle must be pointed down range at the target before ammunition is loaded.
When you have finished shooting, check that the chamber of the rifle is empty and insert the breech flag. The range officer will also check the rifle.
Alcohol, drugs and shooting do not mix.
| | |
| --- | --- |
| A rifle pointing down range with a TRA yellow breech flag inserted | An example of a breech flag used for air rifle shooting |
As a beginner to the sport you will be given one-on-one assistance by one of our qualified safety officers during your visits. This includes detailed guidance on rifle safety, setting up all equipment as well as some tips to improve your scores!
Shooting events available to members
Air-rifle shooting
Air-rifle is contested by athletes at both the Olympic and Paralympic Games and is shot indoors, at a distance of 10 metres from the target. Shooters use target rifles fitted with air cylinders. This is the best and cheapest event for young shooters to take up.
The standing position can be quite challenging given it is the least stable of all positions. However, for beginners, a supporting frame to help with stability is usually provided. Air rifles are lighter than small-bore rifles, which helps to reduce fatigue over a long period of shooting.
Air-rifle is an excellent way of introducing beginners and juniors to the sport of shooting.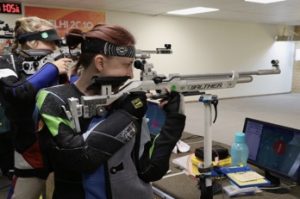 Air rifle is becoming very popular given the low costs of ammunition and ability to practise day or night in all weather conditions as ranges are generally indoors.
Many ranges operate an electronic target system allowing you to immediately see the result of your last shot on a computer screen.
Small-bore rifle shooting
Small-bore rifle shooting covers a number of exciting shooting events shot indoors or outdoors. Small-bore shooting is an Olympic and Paralympic sport enjoyed by millions throughout the world.
The goal is to hit the centre of a target multiple times from a set distance. Targets are scored based on the accuracy of a shot. 10 points are gained for a centre shot (bullseye), reducing down to 1 point for a shot in the outer rings of a target.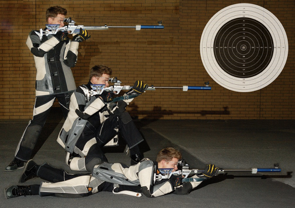 The most challenging event is the 3-position match which is shot in the prone, standing and kneeling positions.
All small-bore participants use specialised target rifles which we will take a look at further on in this booklet.
Many State Ranges in Australia are now equipped with electronic scoring targets which show the result of your last shot immediately on a screen.  Clubs generally shoot on 5-diagram paper targets.
Bench-rest Shooting
Small-bore bench-rest shooting is quickly becoming very popular throughout Australia with many competitions held each year in various locations.
This event is shot on a 50 metre range whilst seated at a small bench with the rifle fully supported by rests at the front and rear.
Many shooters use specialised bench-rest rifles but any small-bore rifle with a scope is suitable. Unlike the disciplines of air rifle and prone, bench-rest rifles have magnifying scopes fitted which make the target image appear larger and clearer.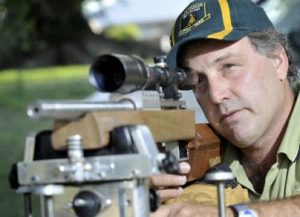 Bench-rest is enjoyed by shooters of all ages but, because it is much less physically demanding than other events, it is particularly popular with more senior shooters.
To be competitive in this event, a higher level of accuracy is required than with prone shooting for example, with attention needing to be given to range conditions such as cross-winds and changing light conditions.
Supported Rest Shooting
Supported rest shooting is a category designed specifically for senior age group competitors.
Supported rest shooting provides the opportunity for senior age group individuals to take part in the sport of shooting when the conventional, unsupported disciplines become less attractive.
Rifle competitions are organised on 10m indoor ranges using air rifles, or on 50m outdoor ranges using small-bore rifles and the same targets as in the unsupported competitions.
Existing equipment and ranges can be used for this event with a supporting rest the only additional equipment required.
Metallic silhouette shooting
A number of clubs in Australia participate in metallic silhouette shooting. This is a 40 or 80 shot competition shot in the prone position over distances up to 90m. The goal is to hit and knock down metal targets in the shape of animals over varying distances.
This fun competition is conducted with small-bore sporting rifles with telescopic sights. This competition is very popular with shooters of all ages and a satisfying "clunk' is heard when a shot is accurate!
Competitions are held regularly and often result in a tense "shoot off" to decide the overall winner!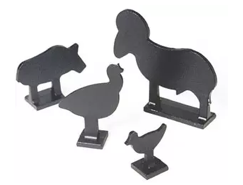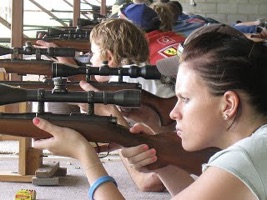 Athletes with a disability
Target Rifle Australia is committed to ensuring that people with a disability are encouraged to participate at the highest level. There are two categories of IPC shooting—SH1 which is basically those who have lost the use of the lower limbs, and SH2 which is loss of both upper and lower limb control.
The rifles used are the same as those used by able-bodied athletes. Allowances are then made for the extra equipment needed to enable athletes with a disability to compete. Australia has a number of athletes who have gained great success internationally.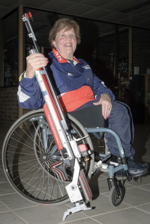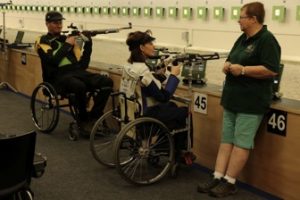 All members – Competing for the first time
All clubs and states conduct competitions that are available to members of all levels, as most of the competitions are graded. The grading system takes note of your shooting ability. Grade categories are from A to D, with the very top athletes competing together in grade A. The lower grades allow beginners to still experience the excitement and camaraderie of competition events by competing alongside all athletes but scoring just against their peers.
Many competition events provide prizes for those at the top of each grade and there are club and state championships plus TRA national championships that members are encouraged to enter.
Basic equipment available to you from your club
Air rifle – single shot .177 caliber rifle for 10 metre indoor shooting


Small-bore rifle – single shot .22 calibre rifle for 50 metre shooting:

Ammunition – brass and lead "rounds" for small-bore, smaller lead pellets for air rifle.
Other equipment available from your club
As beginner athletes improve their skills over several weeks of practice, the supporting blocks and frames used in prone and air rifle shooting can be removed to allow athletes to support the rifle on their own, if they wish.
This advancement is a big milestone and now the athlete will be meeting the international rules of competition.
Additional equipment as needed can be provided by the club as follows:
Shooting glove – a padded glove provides comfort and support for the hand under the rifle.
Additional equipment may be necessary:
Hat or visor – some protection from distracting light is useful.
Please note that there is absolutely no need to purchase your own shooting equipment until you and your coach feel you are ready.
Whilst there are certainly some key benefits to owning your own equipment, the club equipment is there to hire for as long as you require it.
The anatomy of a basic target rifle
(showing a right-handed rifle)

Butt-plate
This is designed to fit firmly in the shoulder pocket. The "hook" fits under the armpit to ensure consistent placement.    

Cheek-piece
The cheek is rested here comfortably as the eyes look through the rear sight.   

Grip
The right hand supports the rifle here.    

Trigger and trigger guard
The index finger reaches toward the trigger when ready to fire. The trigger guard helps to prevent accidental firing.    

Rear sight
The right eye looks through a pinhole here to align the front sight and the target.

The stock
The wooden body of the rifle in which all other parts are fitted.    

Supporting block
Used to rest the front of the rifle on when shooting from a supporting frame. 

Bolt and action
A crucial part of the rifle where the ammunition round is pushed in place by a locking mechanism. In a small-bore rifle the trigger releases a highly pressurised spring attached to a metal pin within the bolt. The pin hits the loaded round with force creating a chain reaction of events which ultimately force the bullet down the barrel.  

Barrel
This metal cylinder is where the bullet is forced from the loading port towards the centre of the target (hopefully!).    

Front sight / foresight
This consists of a small black ring inside a circular tunnel which is aligned with the rear sight and target.   

Loading port/chamber
With the bolt open and breech flag removed, single rounds of ammunition are loaded here. The bolt is then closed, and the loaded rifle is ready to fire.
Summary
We at Target Rifle Australia hope that this information sets you successfully on your path into your chosen sport and we recommend that once ready you also read the information available on our website at www.tra.org.au where you will find additional articles covering new areas of shooting and other articles expanding on the topics covered within this booklet.
Your local club is also a great place to learn by utilising the knowledge of the range officers, club officials and your fellow athletes. Many clubs in Australia have one or more very experienced athletes who at some point have represented Australia in competition. Ask nicely and they will be more than happy to pass on their hints and tips. You may even acquire a new coach!
In summary, target shooting can be enjoyed by everyone, regardless of age or gender. It is a good family activity, an enjoyable recreation and a serious competitive sport.
Australian teams are selected for the Olympic Games, Paralympic Games, the Commonwealth Games, the World Championships and various Regional Championships. Teams and individuals have been successful in previous years and won numerous medals at these events.
The only questions left are what shooting events do you want to try and how far do you want to go!
Want More Information?
Please find additional information on the TRA Website using the links below:
Firearms information (Including storage requirements) – refer to your local State Firearms Branch
Rifle and equipment suppliers (page being developed – come back soon)