Day 2 of competition was the 10m Air Rifle Mixed Team & preparation for the 50m events.
Australia had two teams competing in the competition with Elizabeth Lawler & Andrew Lawler (AUS 1) and Jadelyn Young  & Kevin Chen (AUS 2). After the 30 shot qualification round, AUS 2 qualified for the gold medal match in the final against New Zealand. NZL 2 & NZL 3 qualified for the bronze medal match.
The first final of the day was the bronze medal match which was won by NZL 3's Piper Benbow & Sean Moriarty.
AUS 2 claimed the victory in the gold medal match with a strong victory of 17-11 against NZL 1. Both Jadelyn and Kevin came in clutch with 10's when it counted in the final.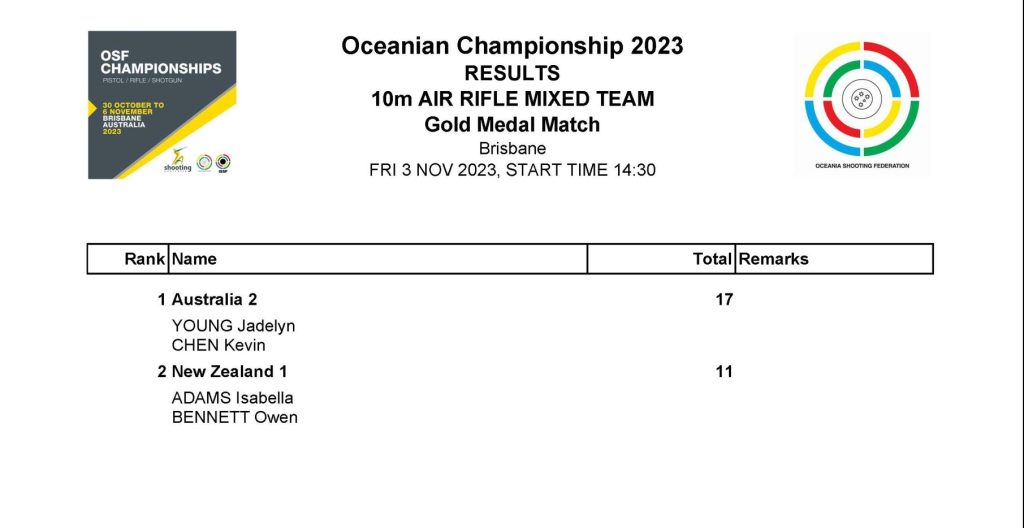 Congratulations to the Australian 10m AR Mixed Team competitions Elizabeth Lawler & Andrew Lawler and Jadelyn Young & Kevin Chen for your outstanding performances.